While reading over some notes in my scripture journal a little while ago, I came across this gem.
I was writing about how I often feel down on myself and get caught feeling like there's no way that I will be able to do all the things necessary to qualify for all the blessings promised to those who keep His law. I often feel this way about life in general, like there's no way I can possibly keep the house clean, or be the mom I want to be so I should just give up now. There are several things wrong with this thinking, but I want to illuminate one of them. One is the lie that the Savior doesn't want to save me because I've let Him down so many times already.
In my journal entry I wrote this, "the fact that He is offering them [the blessings] to us, who He knows can be unfaithful and inconstant and will need to use repentance, means that He knows I'll mess up, and He has provided a way for me to still obtain those blessings. Otherwise all of those promises would be a lie. And even though I doubt myself, I do not doubt God and His ability to redeem us."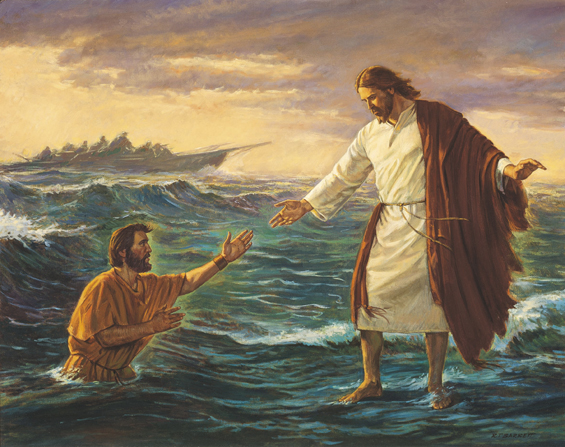 Christ invited Peter to walk on the water.
Christ Walking on the Water

, by Robert T. Barrett, from lds.org media library
He will help because He has promised to. No matter how much I doubt my lovability, I trust His word. We cannot be perfect without Him. I'm glad He loves us so He will help us climb out of the pits we find ourselves in . . . over and over and over again.